No one has ever accused me of being normal, so it should not surprise you that I am doing this backwards.
Yesterday, I posted an article with a link to Laurie Weston's talk titled "Beyond the Hysteria – a data-driven examination of the COVID-19 pandemic".
Today, I post my introduction to Laurie's eye-opening presentation: (VIDEO LINK HERE)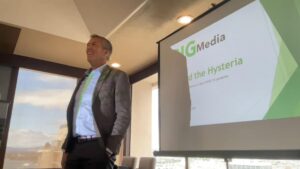 My intro should help you understand why I feel so honoured to have Laurie on our editorial team, as well as why her analysis is more accurate and educational than what you are used to seeing.
My short talk explains how a chance meeting at a Calgary lounge helped lead to a unique business model that has produced new levels of truth and integrity in coverage of the big issues.
Laurie has a special brain and a knack for presenting data with minimal spin and maximum accuracy. Her "Beyond the Hysteria" speech will empower you with practical knowledge while putting an end to many pandemic-related arguments.