On May 13, the Supreme Court of Canada acquitted Matthew Winston Brown of aggravated assault on professor Janet Hamnett while reportedly intoxicated with hallucinogen "magic mushrooms" and alcohol, striking Section 33.1 of the Criminal Code of Canada, which prevents self-induced intoxication from being used as a defence in assault cases.[1]This section of the Criminal Code was created with the purpose of protecting individuals – particularly women and children – from violent crimes at the hands of intoxicated individuals, and its striking by the Supreme Court is of interest to the victims and perpetrators of such crimes, as well as the general public. Hamnett was left with permanent injuries from the crime of which Brown has been acquitted.
While Brown was acquitted of other actions he undertook during his intoxicated rampage, assault was the most serious, and his acquittal of it may have far-reaching consequences. Readers may wonder what affect this decision could have on other violent crimes while intoxicated, including alcohol, the use of which is far more prevalent than magic mushrooms.[2]
What is Section 33.1 of the Criminal Code, and why does it exist?
As they struck down Section 33.1 as unconstitutional, the Supreme Court justices wrote the reasons for its existence.[3]A summary of these reasons, as well as the wording of Section 33.1 are provided in the box below. Essentially, this element of the code is written to hold individuals responsible for their actions while intoxicated, based on the increased risk of violence created by their choice to become intoxicated. This is intended to have a deterrent effect on such criminality.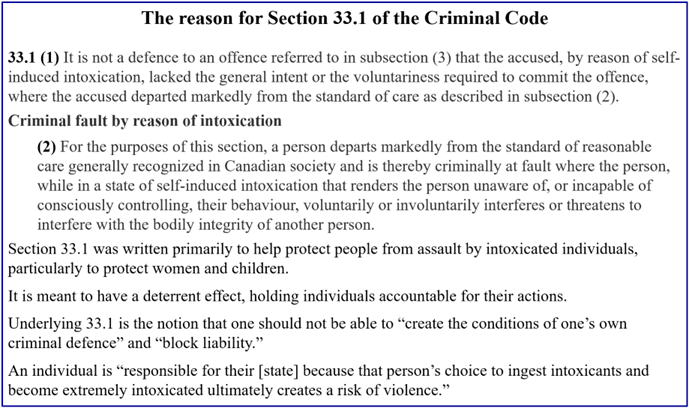 Section 33.1 of the Criminal Code of Canada and some of the key reasons for its existence as written in the Supreme Court decision.[4][5]
Why does the Supreme Court say it struck 33.1?
Of key importance to this decision is the expert testimony that proved Brown was so extremely intoxicated that he could form no intent whatsoever, and qualified as being in a state of automatism.[6]The Supreme Court was clear in their decision as to why they deemed Section 33.1 to be unconstitutional. Those reasons are summarized in the box below. The primary problem with Section 33.1 has to do with intention. It is considered a principle of fundamental justice that no individual should be convicted of a crime without proof that they intended to commit the criminal act.[7][8]
Reasons that Section 33.1 was struck down as unconstitutional by the Supreme Court.[9]
Suggested solutions
In its decision, the Supreme Court suggested that while a conviction of assault is not possible due to lack of intent in such cases, it is possible to hold individuals responsible for an offence of criminal intoxication, since they voluntarily chose to become intoxicated.[10]The court also suggested there could be some level of liability for criminal negligence if such a loss of control was predictable when an accused decided to become intoxicated.
The court is effectively saying that Brown was charged with the wrong crime.
Is drunkenness now a defence against assault, including sexual assault?
The question of whether this decision makes it possible to use drunkenness as a defence against sexual assault is being asked following this ruling. The justices in the Supreme Court made specific comments in their decision that this would not be the case, but women's groups are divided on what they think the result of the decision will be.[11][12][13]The consequences of the Supreme Court's decision are yet to be seen.
Section 33.1 was added to the Criminal Code to protect women and children against violence by the extremely intoxicated, so the decision certainly changes the legal landscape in respect of such cases.[14][15]Absent this legislative piece, a defence of intoxication akin to automatism is now possible for assault and sexual assault. Law is argued based on an interpretation of legislation, and regardless of the comments made by the justices who made the decision, Section 33.1 has been struck and future outcomes in court will be affected by its absence.
Ultimately, we cannot say that striking Section 33.1 does anything but reduce the legal protections for victims of assault and sexual assault, while at the same time protecting those who are extremely intoxicated from the consequences of their actions. How much of a reduction of protection for victims of violent crimes we cannot say.
The second of this two-part series will delve into the prevalence of crimes under intoxication, which substances are behind the intoxication, and how much of our population imbibes these substances. 
References
[1] Supreme Court of Canada, May 13, 2022
[2] Government of Canada, Canadian Alcohol and Drugs Survey (CADS): summary of results for 2019
[3] Supreme Court of Canada, May 13, 2022
[4] Supreme Court of Canada, May 13, 2022
[5] Government of Canada, Justice Laws Website, Criminal Code, C-46
[6] Supreme Court of Canada, May 13, 2022
[7] Supreme Court of Canada, May 13, 2022
[8] Torrance, Luke, May 13, 2022, Canada Supreme Court rules extreme intoxication a criminal defense, Jurist
[9] Supreme Court of Canada, May 13, 2022
[10] Supreme Court of Canada, May 13, 2022
[11] Supreme Court of Canada, May 13, 2022
[12] Women's Legal Education & Action Fund, May 13, 2022. Supreme Court clear that drunkenness alone is not a defence in sexual assault cases
[13] Simon, Amy, May 18, 2022, 'Absolutely absurd': London women's groups react to Supreme Court extreme intoxication ruling
[14] Supreme Court of Canada, May 13, 2022
[15] Simon, Amy, May 18, 2022, 'Absolutely absurd': London women's groups react to Supreme Court extreme intoxication ruling