Amanda Hall of Summit Nanotech was named the winner of the $1-million Women in Cleantech Challenge (WIC) today for her innovative work in the field of lithium extraction.
As we reported in the article Examining the gender lens and the Women in Cleantech Challenge, the goal of the WIC initiative was manifold:[1]
To address the lack of female leadership in science, technology, engineering, and mathematics (STEM) through a unique leadership and entrepreneurial development program.
To develop clean technologies that could be impactful to the world.
To award a $1-million prize to the leader whose company made the most progress, achieved the greatest market impact, and was deemed most likely to succeed as a commercial venture.
The process
The WIC challenge has taken place over the last few years. It followed these steps.[2]
Started accepting applications on May 10, 2018
Two stages of screening with hundreds of applicants
Narrowed to 10 applicants of Sept. 5, 2018
Final six applicants chosen on Sept. 18, 2018
Three years of development time, including access to certain funding structures, mentorship, training, and technical and laboratory support through Natural Resources Canada (NRC).
Final presentations to the judges in the fall of 2021
Announcement of the winner on Nov. 30, 2021
The finalists cite the developmental program as particularly helpful in the growth of their companies. An unusual aspect of this has been the co-operative social and technical environment of the WIC Challenge in which contestants interacted productively with each other at various stages.[3]
The winner
Amanda Hall's Summit Nanotech has developed technology to filter lithium-bearing brines at the wellhead into highly concentrated, battery-grade lithium carbonate or lithium hydroxide. Summit describes the process as "green" because of its sustainable characteristics. Their process reportedly doubles the yield, relative to competitors, of lithium from 40% to 80%, uses no fresh water, and reduces waste by 90%.[4]Summit also has a process that can be used for lithium battery recycling. This augments Summit's sustainable positioning and moves the company into the conversation on the circular economy. Battery-grade lithium is used for electric vehicles (EVs) and other applications. After the battery degrades, the lithium is recycled through another Summit process to be reused by the cathode manufacturer in a new battery. The image below illustrates this circular concept as described by CEO Hall. Eventually, the need for produced brines is reduced.[5]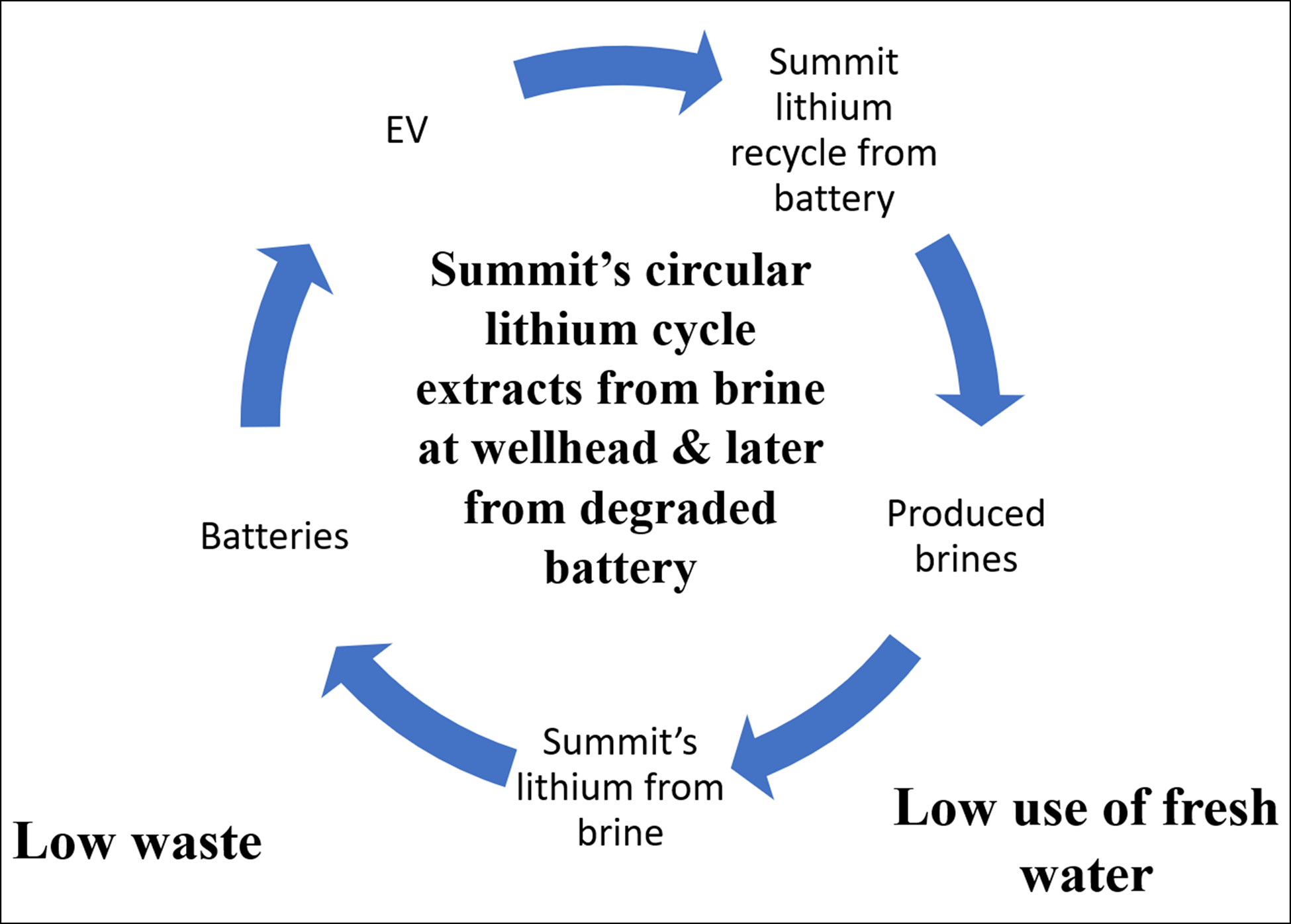 Illustration of Summit Nanotech's technology. Summit's processes are applied twice; once at the wellhead and another on degraded batteries. Eventually, the need for produced brines is reduced and the circle tightens.
The primary market driving lithium demand is EV batteries, but includes other energy storage systems. EV market penetration is predicted to reach 15% in 2025 and as high as 35% by 2030.[6] This is from an estimated 4% EV market share in the United States in 2021.[7]A chart projecting worldwide lithium demand is shown below, which essentially tracks the EV demand forecast. All projections are subject to uncertainty, of course, but the current projection is of strong demand for lithium.[8]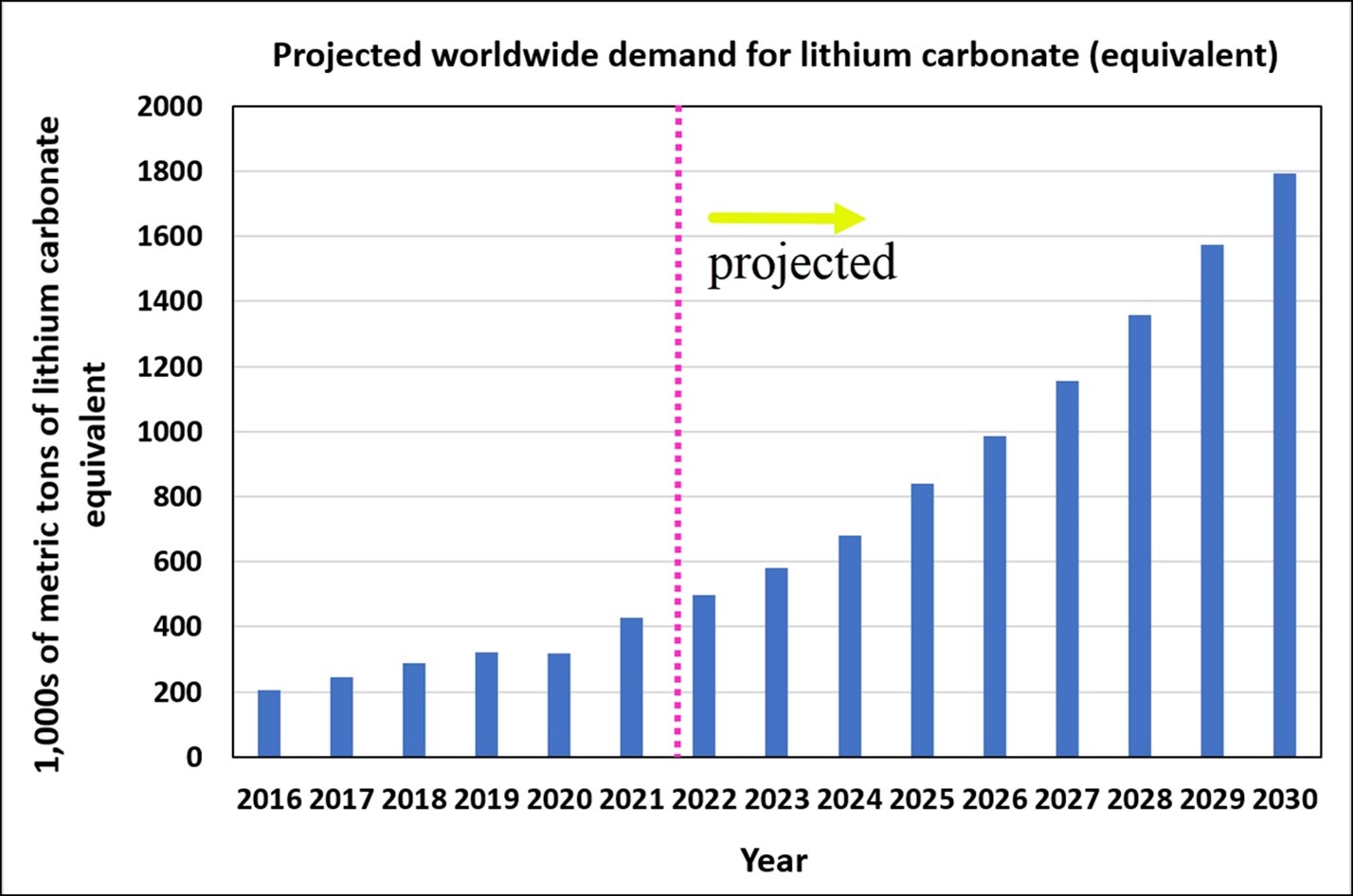 Projected demand for lithium, largely driven by the EV industry.[9]
The other finalists
The other projects were interesting and relevant. Evelyn Allen's (Evercloak) work with graphene nanofilms could have a wide variety of applications. Julie Angus's (Open Ocean Robotics) long-duration, solar-powered marine boats have already seen use in oceanic surveillance projects. Nivatha Balendra's (Dispersa) biodegradable lipids could see service in cleaning anything from oil spills to household spills. Alexandra Tavasoli's (Solistra) photocatalysts show promise for efficiently removing CO2 from power plants. Luna Yu (Genecis) is forging ahead with plans to produce bioplastics from organic waste.[10]
Perspective
In the recent article Climate change – environmental emergency or economic opportunity?, we spoke about the economic drivers behind CO2 management and environmental initiatives. These drivers directly and indirectly support the development of clean technologies. Although we cannot predict which innovative ideas will be successful, the WIC Challenge is another example of environmental and economically driven innovations.
We continue to predict change, and we predict it soon. Perhaps the WIC winner, Amanda Hall, and members of the finalist group will be part of that change.
References
[1] MARS Discovery District, Women In Cleantech Challenge Process
[2] MARS Discovery District, Women In Cleantech Challenge Process
[3] Barry Chong, November 3, 2021, Collaboration over competition: How six rival entrepreneurs united to grow their companies, NARS Discovery District
[4] BNN Bloomberg, October 6, 2021, Our technology helps miners extract lithium in a more sustainable way: Summit Nanotech CEO
[5] BNN Bloomberg, October 6, 2021, Our technology helps miners extract lithium in a more sustainable way: Summit Nanotech CEO
[6] Fastmarkets staff, July 22, 2021, Lithium supply and demand to 2030
[7] Wayland, Michael, October 26, 2021, Americans are buying Teslas, not EVS, but experts say that's about to change, CNBC
[8] Garside, M., September 16, 2021, Global projection of total lithium demand 2016-2030, Statista
[9] Garside, M., September 16, 2021, Global projection of total lithium demand 2016-2030, Statista
[10] Barry Chong, November 3, 2021, Collaboration over competition: How six rival entrepreneurs united to grow their companies