The first of this two-part series examining the repercussions of the May 13 Supreme Court of Canada acquittal of Matthew Winston Brown[1]left us with some understanding of the new uncertainty regarding violent crimes committed under intoxication. Part 2 investigates the number of crimes in Canada that are undertaken by intoxicated persons, what the intoxicating substances are, and the prevalence of such substance use in our population.
What are magic mushrooms?
This particular case involved the hallucinogen magic mushrooms, so let us begin there. The box below summarizes key facts regarding the properties and legality of magic mushrooms, which contain the substances psilocybin and/or psilocin. These substances are known to create an altered state of consciousness and can make separating fantasy from reality challenging or even impossible.[2]They are hallucinogens and belong to a class of substance known as psychoactives, in that they affect the mind. LSD ("acid") is a member of this class of substances, as are alcohol and cannabis.[3]Magic mushrooms are illegal to produce, possess, or sell in Canada and the United States.[4][5][6]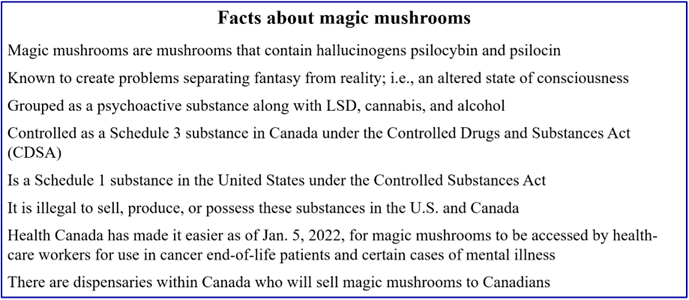 Summary of the attributes and legality of magic mushrooms.[7][8][9][10]
Move to make magic mushrooms more accessible
While magic mushrooms are illegal in Canada and the U.S., there are some within Canada who wish to make them more accessible. On Jan. 5, Health Canada enacted changes to the Special Access program (SAP) to allow health practitioners to access magic mushrooms for patients under circumstances such as treatment of end-of-life cancer patients or the mentally ill.[11]A terminal cancer patient in Quebec was recently treated with magic-mushroom therapy.[12]
This change has opened the door to the discussion of greater access and more widespread treatment.[13]Despite magic mushrooms being illegal in Canada, they are being sold online within the country by various entities, including Shroom Room, which was contacted by BIG Media.[14]We contacted the RCMP about these businesses, inquiring about why these technically illegal businesses are permitted to operate in Canada. The RCMP is working on a response to our enquiries. This experience is congruent with a recent article by the Canadian Medical Association Journal News, which suggests that such criminal activities are being ignored. Further, advocates of magic mushrooms are hopeful that magic mushrooms will follow legal and business paths similar to what cannabis recently took in Canada.[15]
The timing of greater access to magic mushrooms is undoubtedly uncomfortable to some in light of the Supreme Court decision striking Section 33.1. Many health professionals suggest that health care should focus on harm reduction rather than bringing criminal charges.[16][17]
The recent legal ruling has highlighted another balancing act between the accused and the victims of violent crime – and between intent and responsibility. It also exposes the challenge of recognizing the plight of victims of violent, drug-related crimes, while much of the focus is on harm reduction among users of the substances.
Scope – prevalence of psychoactive substances in society
The Government of Canada, through Health Canada and Statistics Canada, conduct a survey called the Canadian Alcohol and Drugs Survey (CADS), which tracks drug use among Canadians age 15 and over.[18][19][20][21][22][23]Since 2013, this survey has been biennial. No survey can be entirely accurate, and this one is anonymous, asking a series of detailed questions about usage and capturing a wide array of data. It involves a large group (10,293 respondents in 2019) and estimates population-wide drug usage in the country. The results of these surveys from 2009 to 2019 follow in the next two charts.
The first chart shows the prevalence of use of psychoactive substances in Canada. Alcohol is shown to be used by 76-78% of the population during this period. Psychoactive pharmaceuticals and cannabis have a much lower prevalence, both being used by less than 30% of the population. Cannabis use rose in 2019 – in line with its legalization in October 2018.
Note that magic mushrooms are not included in this chart. As a Schedule 3 substance, magic mushrooms cannot be qualified as a pharmaceutical. It is an illegal drug.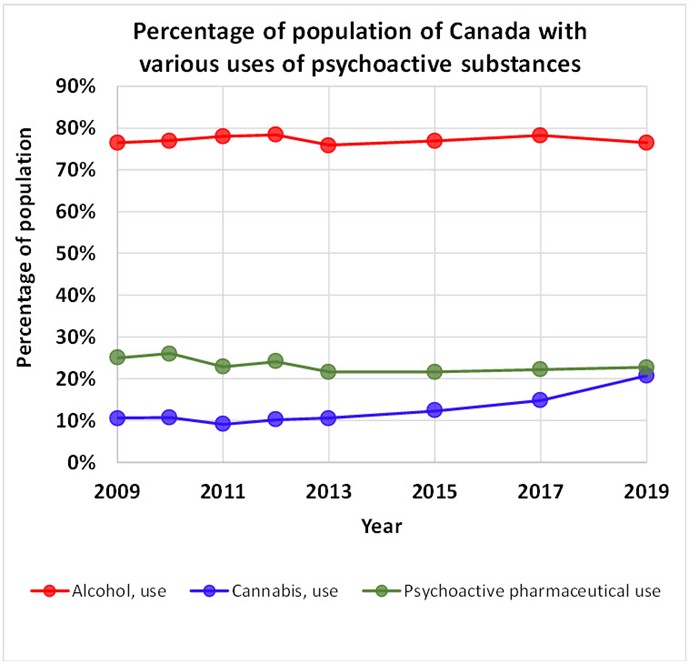 Estimated percentage of the Canadian population using psychoactive substances.[24][25][26][27][28][29] 
The second chart shows problematic uses of psychoactive substances, including illegal drugs. The term "problematic" use is substituted for older, more pejorative terms such as abuse. Problematic uses or misuses are when a substance is used in one of two ways: in amounts over guidelines, or for the purposes of getting high. [18] Note that alcohol misuse is significantly more prevalent than all other misuses. Magic mushrooms fall within the category of "illegal drug use, hallucinogens," and represent a small fraction of problematic misuse.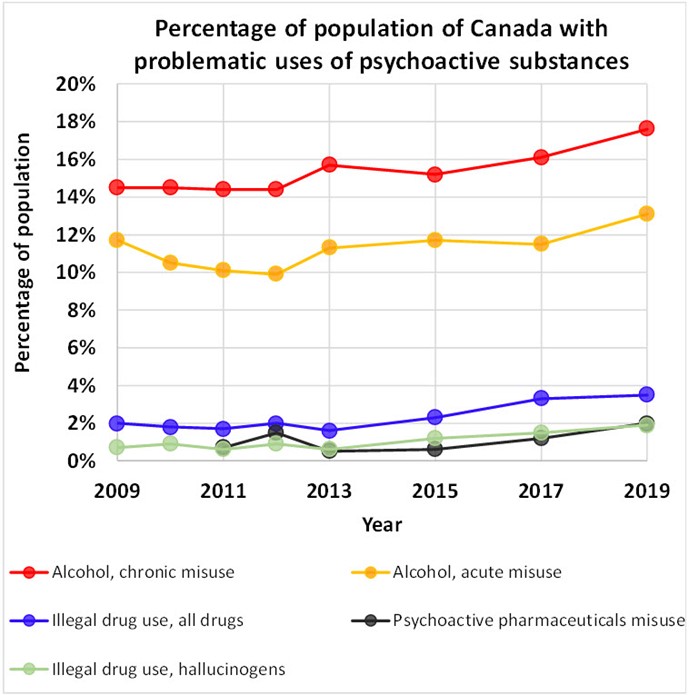 Estimated percentage of the Canadian population engaging in problematic uses of psychoactive substances.[30][31][32][33][34][35]
How many magic-mushroom crimes are reported?
The statistics for crimes associated with psychoactive substances are only spottily available. Data for crimes tends to be organized in broad categories, just as in the usage data, and is dependent on the reporting of police and other governmental agencies. We started our search for data with impaired driving statistics. The chart below illustrates the police-reported impaired driving prevalence per 100,000 persons in Canada, separated by alcohol or drugs. As the chart shows, impairment due to the effects of alcohol is an order of magnitude more common than due to drugs.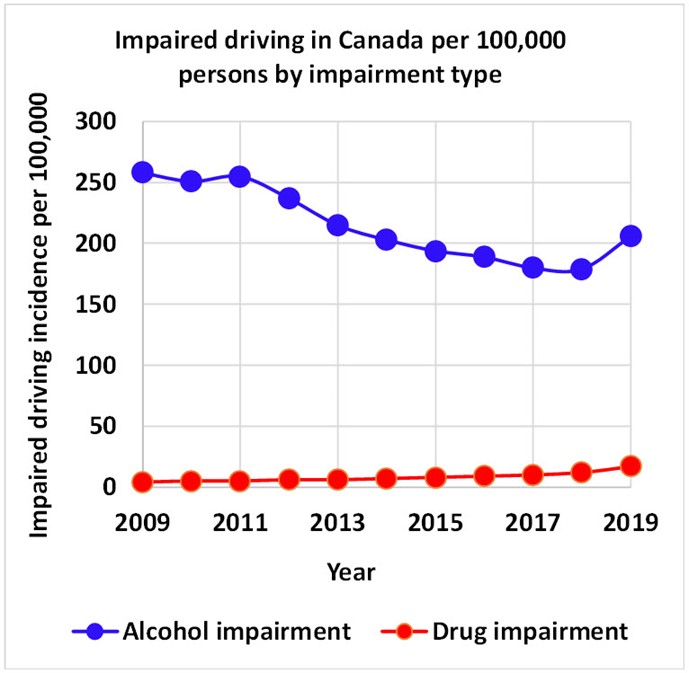 Police-reported, impaired-driving incidents per 100,000 persons by impairment type.[36]
What about other crimes, particularly assault, which is where this all began?
The magic mushroom decision involved aggravated assault and other minor offences.[37]How many of these crimes are caused by intoxication? The answer to that question is not straight-forward, but a 2001 study on inmates in Canada revealed the percentage of inmates who had imbibed psychoactive substances on the day of their crimes.[38]This does not suggest that they were extremely intoxicated, as Brown was alleged to be, but shows the associative degree that these substances had to the crime. The chart of these results for alcohol, drugs, or both is shown below. Alcohol has a higher association than drugs.
A follow-up 2021 study estimated that as high as 42% of all crimes commitment by inmates of Canadian federal institutions were associated with substance abuse. This excludes impaired driving and violations of the CDSA.[39]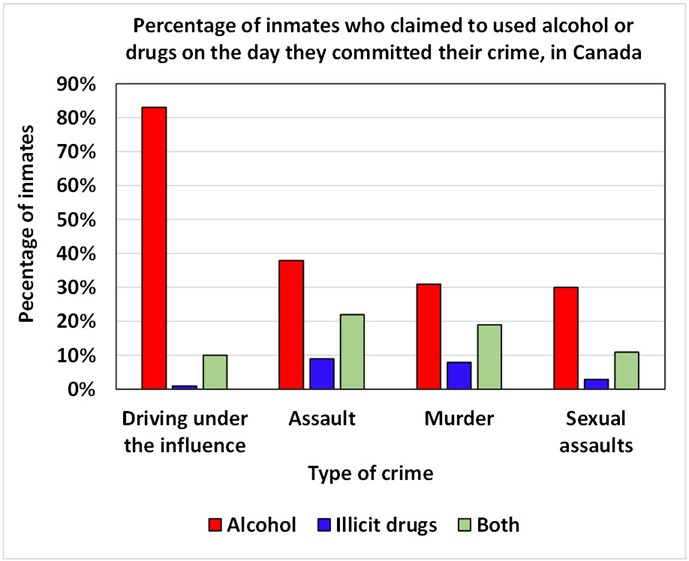 Estimated percentage of inmates who stated they used alcohol or drugs on the day they committed their crime.[40]
Alcohol is the elephant in the psychoactive room
As much as magic mushrooms are in the spotlight due to their importance in the recent Supreme Court ruling, alcohol and cannabis are used by far more Canadians, with alcohol seeing the most widespread use by far. In the 2019 CADS survey, 6% of Canadians reported driving within two hours of drinking two or more drinks, and 2% of Canadian reported driving within two hours of imbibing cannabis.[41]Although same-day drug use was observed in a significant percentage of inmates, alcohol association to crime was higher.
Notwithstanding the idea that few cases of alcoholic intoxication would reach the extreme of Brown's state during the assault he perpetrated, its prevalence is much higher than magic-mushroom use, and therefore should be of great concern in relation to crime and criminal defence.
Conclusions
The May 13 Supreme Court decision is about much more than Matthew Brown and his violent behaviour after imbibing alcohol and magic mushrooms. It calls into question the fundamental principle of justice regarding intent. It also illuminates the balancing act between protecting victims of violent crimes and judgment of the accused. The Supreme Court justices wrote that their decision does not make drunkenness a defence against sexual assault. However, they struck down a section of the Criminal Code that was written to protect against such occurrences.[42]Faith in this area of the justice system may be further fractured by recent Health Canada changes that provide easier access to magic mushrooms.
It seems illogical to increase access to magic mushrooms while reducing the legal responsibility of those intoxicated by them. Such changes may limit legal recourse for victims of intoxicated individuals and could undermine public confidence in the justice system.
In the meantime, although the life-changing actions of Brown are disturbing, it is important to note that crimes committed under the influence of magic mushrooms are low in volume. Of greater concern should be the overall scope of crimes committed by those using psychoactive substances – including alcohol – and whether the Supreme Court's decision will strengthen the defence of those who commit crimes under the influence.
References
[1] Supreme Court of Canada, May 13, 2022
[2] Government of Canada, Psilocybin and psilocin (Magic mushrooms)
[3] Government of Canada, Psilocybin and psilocin (Magic mushrooms)
[4] Government of Canada, Regulating Controlled Substances and Precursors
[5] Government of Canada, Justice Laws Website, Controlled Drugs and Substances Act
[6] Department of Justice / Drug Enforcement Administration, United States, Drug Fact Sheet, Psilocybin
[7] Government of Canada, Psilocybin and psilocin (Magic mushrooms)
[8] Government of Canada, Regulating Controlled Substances and Precursors
[9] Government of Canada, Justice Laws Website, Controlled Drugs and Substances Act
[10] Department of Justice / Drug Enforcement Administration, United States, Drug Fact Sheet, Psilocybin
[11] Rafi, Leila, and Sasa Jarvis, January 11, 2022, McMillan Publications, 2022 Starts on a High—Updates in the Psychedelics Industry and a Look Back at 2021
[12] Ann, Virginie, May 16, 2022, 1st patient in Quebec gets approval from Health Canada for Magic mushroom therapy, CBC News
[13] Ann, Virginie, May 16, 2022, 1st patient in Quebec gets approval from Health Canada for Magic mushroom therapy, CBC News
[14] Shroom Room, Canada's Best Magic mushrooms
[15] Basky, Greg, November 2, 2021, Policy in Focus: Is psilocybin the next cannabis?, CMAJ News
[16] Canada Public Health Association, May 2014, Discussion Paper: A New Approach to Managing Illegal Psychoactive Substances in Canada
[17] Canadian Association of Social Workers, 2018, Decriminalization of Personal Use of Psychoactive Substances
[18] Government of Canada, Canadian Alcohol and Drug Use Monitoring Survey, 2011
[19] Government of Canada, Canadian Alcohol and Drug Use Monitoring Survey, 2012
[20] Government of Canada, Canadian Tobacco, Alcohol and Drugs Survey (CTADS): summary of results for 2013
[21] Government of Canada, Canadian Tobacco, Alcohol and Drugs Survey (CTADS): summary of results for 2015
[22] Government of Canada, Canadian Tobacco, Alcohol and Drugs Survey (CTADS): summary of results for 2017
[23] Government of Canada, Canadian Alcohol and Drugs Survey (CADS): summary of results for 2019
[24] Government of Canada, Canadian Alcohol and Drug Use Monitoring Survey, 2011
[25] Government of Canada, Canadian Alcohol and Drug Use Monitoring Survey, 2012
[26] Government of Canada, Canadian Tobacco, Alcohol and Drugs Survey (CTADS): summary of results for 2013
[27] Government of Canada, Canadian Tobacco, Alcohol and Drugs Survey (CTADS): summary of results for 2015
[28] Government of Canada, Canadian Tobacco, Alcohol and Drugs Survey (CTADS): summary of results for 2017
[29] Government of Canada, Canadian Alcohol and Drugs Survey (CADS): summary of results for 2019
[30] Government of Canada, Canadian Alcohol and Drug Use Monitoring Survey, 2011
[31] Government of Canada, Canadian Alcohol and Drug Use Monitoring Survey, 2012
[32] Government of Canada, Canadian Tobacco, Alcohol and Drugs Survey (CTADS): summary of results for 2013
[33] Government of Canada, Canadian Tobacco, Alcohol and Drugs Survey (CTADS): summary of results for 2015
[34] Government of Canada, Canadian Tobacco, Alcohol and Drugs Survey (CTADS): summary of results for 2017
[35] Government of Canada, Canadian Alcohol and Drugs Survey (CADS): summary of results for 2019
[36] Government of Canada, Impaired Driving in Canada, 2019
[37] Supreme Court of Canada, May 13, 2022
[38] Brochu, Serge, et al, January 2001, Drugs, alcohol, and criminal behaviour: A profile of inmates in Canadian federal institutions, Forum on Corrections Research Focusing on Alcohol and Drugs, V 13, No 3
[39] Government of Canada, 2021, Correctional Service Canada, Proportion of Crimes Associated with Substance Use
[40] Brochu, Serge, et al, January 2001, Drugs, alcohol, and criminal behaviour: A profile of inmates in Canadian federal institutions, Forum on Corrections Research Focusing on Alcohol and Drugs, V 13, No 3
[41] Government of Canada, Canadian Alcohol and Drugs Survey (CADS): summary of results for 2019
[42] Supreme Court of Canada, May 13, 2022