Some people in my network have suggested that our society has moved past the pandemic and that there is no reason to provide coverage such as the high-level data analysis provided by my business partner Laurie Weston in the recent article linked here (Detailed analysis of 2021 deaths data reveals disturbing trends).
I could not disagree more.
If we do not examine carefully the consequences of pandemic policies, we are doomed to make similar mistakes in the next public health crisis.
I continue to bump into people who believe that COVID-19 interventions had an overall positive effect on our collective health. I find that quite frightening – and I write this article with intent to help some of those folks understand that this is not the case.
Looking at causes of death in the year 2021, it is reasonable to conclude that while policymakers and health officials worked together to lock down much of our society with policies purported to be protecting the greater community from a virus that was almost exclusively a major threat to very unhealthy people, they were establishing conditions that saw young people die in great numbers.
Now, no one wants to be perceived to be even partially responsible for the deaths of young people, so you will see most public officials avoiding the topic like the plague.
The same groupthink that saw the majority of politicians, medical officials, physicians, scientists, and media organizations unite in support of the stifling of our lifestyles during the COVID-19 pandemic is now at work in avoiding discussion that points blame for the immense collateral damage in the direction of those groupthinkers.
So, it falls on a small number of high-integrity professionals and independent news organizations to spread the word, so we can learn from monumental mistakes. Censorship in social media and other channels of evidence that contradicted the prevailing lockdown-and-take-your-shots narrative made it very difficult to stumble across accurate context, but we at BIG-Media.ca have been delivering important data and logical analysis ever since our launch in February 2021.
Laurie's examination of death data in the Canadian province of Alberta yields disturbing trends. Contrary to what you might believe if you have been following the World Health Organization (WHO) and the U.S. Centers for Disease Control and Prevention (CDC), COVID-19 is not the primary culprit behind large numbers of excess deaths.
Interactive charts in Laurie's article (Detailed analysis of 2021 deaths data reveals disturbing trends/) illustrate that in 2021 elderly people died at rates within an average scope over the last two decades. COVID-19 was certainly a factor in deaths over age 80, but there was not a large increase in excess deaths because the majority of those who died from COVID were elderly with multiple comorbidities (Figure 1), and were statistically close to death. Those who wish to counter the previous statement may first want to do some research on the number of COVID deaths among residents of long-term-care homes and the average length of stay at those homes.
Laurie's expertise in data allows readers to explore how many died in your specific gender and age category, as well as the various causes of death.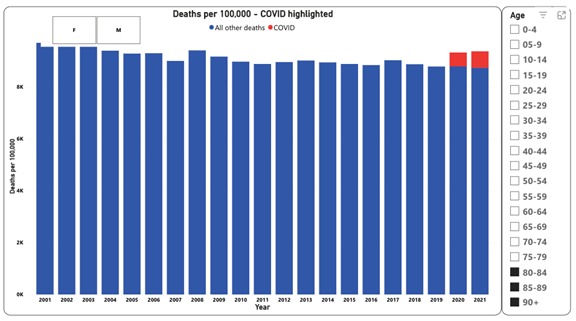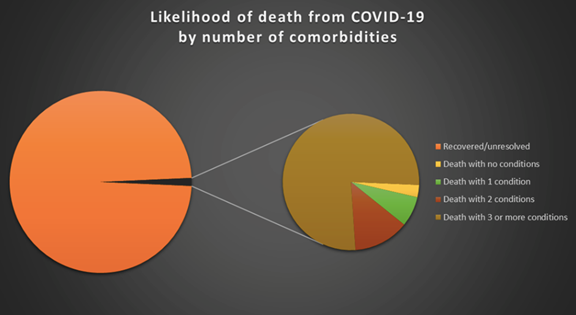 Figure 1 – COVID-19 death and comorbidities from article by Skye Thompson and Laurie Weston published in March of 2021 – COVID context – how concerned should we be about dying from this virus?
 Now for the disturbing data.
There were a LOT of excess deaths – meaning deaths above what would normally be expected – among young people in 2021.
If you visit Detailed analysis of 2021 deaths data reveals disturbing trends and click on the age categories from 20-49, you will see giant increases in death rates … and not from COVID-19.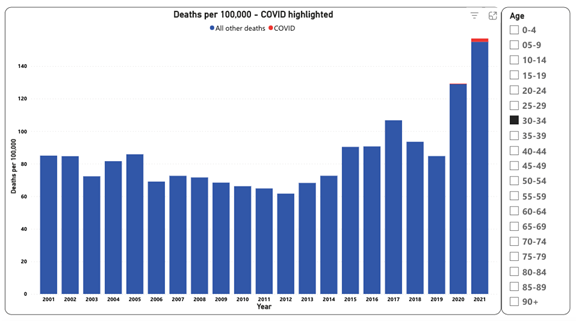 The "flatten the curve" narrative may have made sense to many back in 2020 and 2021, but by now we should understand that COVID interventions had a disastrous impact on young adults. You need not have a PhD in psychology to understand that a sudden and dramatic reduction in human contact would have a significant effect on young people.
It is too early to say what effects the COVID-19 vaccines had on general community health, but BIG Media Ltd. will bring you relevant data when it is available.
In March 2020, I implored policymakers and medical officials to avoid major lockdowns, penning an article titled "Saving businesses saves lives", which pointed to a demonstrated correlation between lack of employment and increase in suicides.
Of course, enacting policies that dramatically restricted our lives would cause serious collateral damage. But no one wanted to talk about that. Public officials were too busy producing emotional press briefings announcing the latest death numbers – almost always without providing meaningful context such as age and comorbidities. News organizations, meanwhile, were loving every minute of a larger, freaked-out audience tuning in multiple times per day to see the latest tantalizing tales of terror.
Much of the data/logic-driven material that I published at that time was deleted or restricted by the social media giants.
Countless anecdotal accounts and behind-the-scenes interviews cemented my opinions on the subject, including when a woman contacted me to say that no other media outlet would pay attention to the story that her daughter was the third person from the same small-town high school graduating class to commit suicide in a three-month span – Mother of suicide victim implores adults to look for signs of trouble.
"But imagine what it would have been like if we did not lock down and mass-vaccinate?" you might say.
To which I say, "I imagine there would be a lot more young people still breathing."
Let's hope that the right people are paying attention and learning from their mistakes.