While I love my spinach and quinoa salad with a balsamic reduction vinaigrette, there are times when you just crave the salty, fatty deliciousness of a juicy fast-food hamburger. There are all kinds of reasons to occasionally swing by your local drive-through: On the way to soccer practice with hungry kids in the van, a few minutes between meetings, on the road and need something that is not going to slow you down, or just in the mood for a treat. It is quick, convenient, and every bite scratches a certain guilty itch (that I may have just given you the urge to scratch).
If you are like most people, you are aware of the unhealthy aspects of your choices and choose the fast-food option sparingly. Some, however, justify this choice more frequently as a money-saving option. I have heard many times the matter-of-fact pronouncement that it is cheaper to eat fast food than it is to make the same meal at home. I had my doubts, but I couldn't prove it – until now.
Recently, I paid a visit to the BIG Media labs to deconstruct a certain popular burger that shall remain unnamed, although I will give you the vague hint that it shares its first name and initials with BIG Media. Our scientists were busy with lots of other important research (LOGIC, Niagra, and ElonGates, to name a few), but I managed to get their attention long enough to have them weigh, count, and measure all the components in my bought burger. Then I went grocery shopping so I could recreate this masterpiece at home. See if you can tell the difference!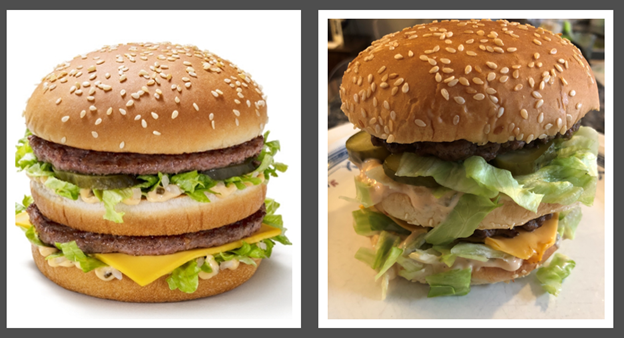 The table below shows how much it cost (Canadian dollars) for the ingredients for one hamburger.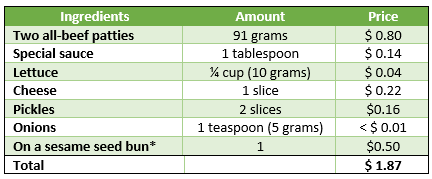 *If you are exceptionally industrious or cost conscious, you could make your own bun. This would add about 2 cents to the bill.
Here is the comparison in price between the real deal and my homemade knockoff – plus fries, naturally:

*I got lazy and went for the frozen pre-cut oven fries; if I used real potatoes from scratch, it would have cost 16 cents for my medium fries … plus a few pennies for the oil.
There is quite a difference in the total meal price, proving my suspicions correct!
However, you can't just buy one teaspoon of onion and one slice of cheese, so you have spent more money than you would have buying one hamburger, and you will have some leftovers. I froze my ground beef and extra buns to use the next time I feel the craving. Those cheese slices that come in individual plastic wrappings keep forever in the fridge, as do pickles, and "special sauce" (thousand island dressing plus mayonnaise plus sweet relish – don't ask me how I know) is tasty on all kinds of food.
The remaining onion and head of iceberg lettuce could be fed to the squirrels if you like – they cost almost nothing. But you might consider having an iceberg wedge salad (with extra special sauce) on the side.
Ideally, you have friends or family with whom you can share your burger fixins. For the price of a fast-food restaurant meal, you can make 3.31 homemade equivalents. Making the bread yourself and cutting real potatoes means you can make an astounding 9.42 BIG-M burger meals for the price of one! And getting those 8.42 friends involved in the preparation would turn the event into a serious party.
An alternative approach is to boost the classiness of your hamburger. You could switch to extra lean from regular ground beef for an additional 60 cents, you could use an artisan bun for 25 cents more, and instead of lettuce, go for spinach or arugula to treat yourself to a delightful gourmet experience. You would still spend less than the version purchased from the fast-food chain. These premium options provide the added bonus of improving the nutritional value of your homemade meal.
To really elevate the class factor, serve your meal on fine china with cloth napkins, which emphasizes the considerable amount of waste you are preventing, giving you the satisfaction that you are being good to the planet while saving your hard-earned cash.
Even though I saved money, the convenience and efficiency of ordering from the driver's seat of my vehicle, tapping my card, driving up a few metres, and within a few minutes having that warm paper bag handed to me, filling the car with the oddly delectable smell of deep-fried brown paper, is hard to beat. All for a few bucks.